Cable Assembly Manufacturing
Control Solutions is your source-of-choice for high quality cable assemblies!
Control Solutions LLC has been providing cable assemblies to our customers for over 20 years.  During that time we have developed and perfected many design and assembly techniques that let us create cable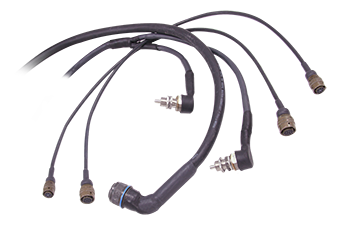 assemblies that others can't.
Our cable-building capabilities span a wide range of applications, technologies, emphasis areas, and volumes.  From low-cost/high-volume commodity cables, to specialized super-complex/ultra-reliable cables, we do everything on both ends and in between.
We serve a number of industries, including Medical, Military, Aerospace, Transportation, Lawn Care, Floor Care, Hydraulic Power, Marine, Safety, and Recreational Products.  We're always looking to serve YOUR industry.  Just let us know what you need, and we will design and build a cable assembly that exceeds your expectations.Control Solutions has the automated tools to build your cable assembly efficiently, cost-effectively, and in high volume.
Control Solutions has the machines and tools to build your cable assemblies the right way!  From our high-speed cutting and stripping machines, to our extensive array of crimping applicators, to our wide testing and validation environments, we can build the cables that make your machines run perfectly all the time.
Download Brochure here.
For More Information on our Cable Assembly Solutions Please Contact: Chris Merkes, Business Development Direct: 630 487-5877 Ext. 132 Cell: 630 659-6058 email: cmerkes@controls.com